.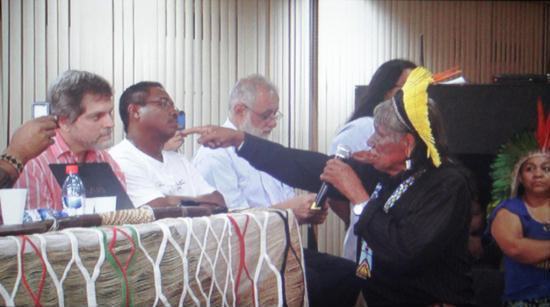 Raoni confronting president of FUNAI
On 18th August 2011, at the end of a meeting in Manaus of 200 indigenous leaders from nine Amazon countries, Raoni Kayapó, legendary leader of the combative Kayapó indigenous people, confronted Márcio Meira, the president of FUNAI, the Indian agency. Raoni 'pulled the ear' of the FUNAI president (see picture above), in a symbolic gesture that in Brazilian culture means a 'telling off.'
Raoni was protesting about the way in which huge hydroelectric power stations, particularly Belo Monte in the Xingu, are being built, without proper consultation with indigenous people, whose concerns are being systematically ignored. Raoni said that fraudulent and dishonest pretences at 'public consultations' are happening all over the region.
For many of those present, Raoni's action recalled the dramatic gesture made by the woman indigenous leader, Tuíra, in 1989, also in protest about plans for hydroelectric power stations in the region. Tuíra held a large knife at the throat of the then president of the state-owned electricity company, Eletronorte. This gesture (see picture below) became a global symbol of indigenous resistance to the destruction of their land and their lives. It was instrumental in getting the construction of the Belo Monete power station delayed for more than 20 years.
Tuira confronting president of Eletronorte
The main objective of this meeting was to develop a common strategy among indigenous groups in the Amazon for future events, particularly the Rio + 20 meeting, which will be held in Rio de Janeiro in June 2012. The meeting was organised by COICA (Coordination of Organisations of Amazonian Indians). It is being followed by a large meeting, also in Manaus, of indigenous nations from all over the world,.